Paleo Vegan Double Chocolate Protein Cookies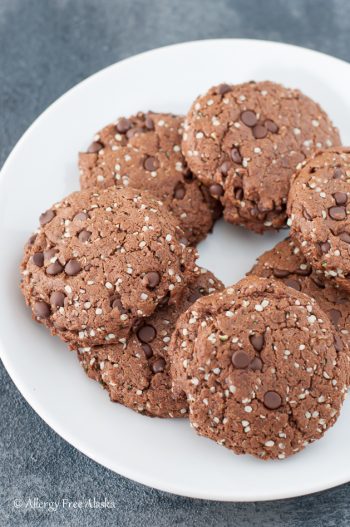 Author:
Megan Ancheta, Allergy Free Alaska LLC
Preheat oven to 350 degrees (F) and line 2 large baking sheets with parchment paper or silicone liners.
Stir together the flax meal and boiling water; set aside and allow it to sit for at least 10 minutes.
Using an electric mixer, cream the SunButter, palm sugar, maple syrup, and vanilla. Beat in the baking soda and sea salt, and then stir in all other remaining ingredients (don't forget the flax meal slurry!).
Roll the dough by heaping tablespoon into balls and place them on the baking sheets spaced about 3 inches apart. Using the tips of your fingers, gently flatten the dough until it is about 1/2 an inch thick.
Bake for 12 to 14 minutes, or until the edges of the cookies are set. Leave cookies on the baking sheet to cool.
When the cookies are cool and firm, transfer them to plate lined with a paper towel (this will help draw out the excess oils from the SunButter). Store the cookies uncovered out on the counter (so the air can get to them). They will crunch up on the outside, but still remain soft on the inside. If you store them in an airtight container, they will retain too much moisture and crumble easily.
In lieu of the flax meal slurry, you can replace the flax meal and boiling water with 1 large egg.
Recipe by
Allergy Free Alaska
at https://www.allergyfreealaska.com/paleo-vegan-double-chocolate-protein-cookies/