Tuna and Bacon Quinoa Bowl with Lemony Vinaigrette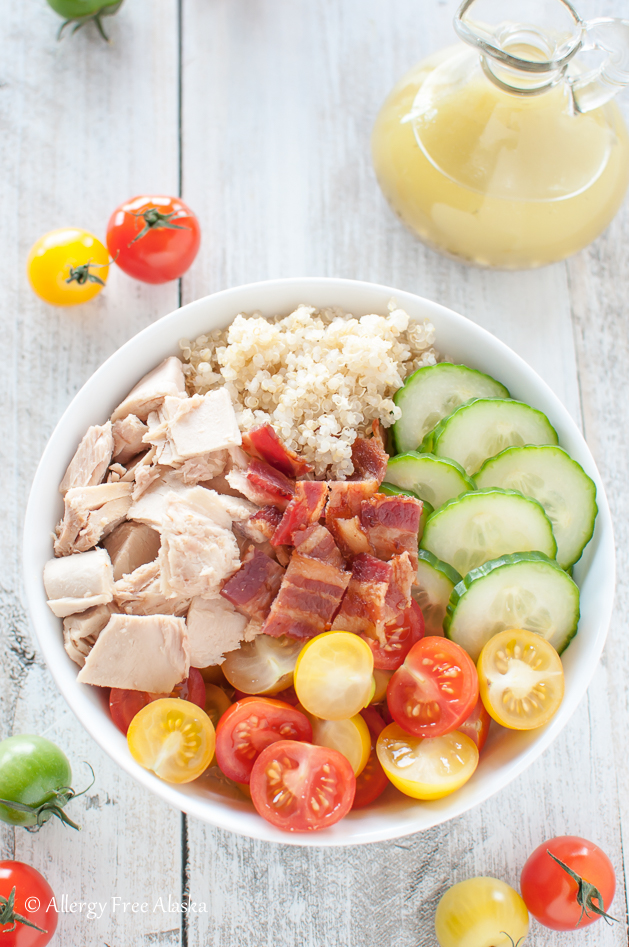 Author:
Megan Ancheta, Allergy Free Alaska LLC
1/2 cup olive oil
2 tablespoons lite rice vinegar
2 tablespoons freshly squeezed lemon juice
1 teaspoon dijon mustard (I use the Annie's Natural brand)
1 teaspoon dried parsley
1 teaspoon dried onion flakes
1/2 teaspoon dried dill
1/4 teaspoon garlic powder
sea salt & freshly cracked pepper
cooked quinoa
cooked bacon, crumbled
canned Wild Selections Solid White Albecore Tuna in Water
cucumber slices
diced cherry tomatoes
Combine all of the ingredients in a pint-sized canning jar and tightly secure the lid. Shake until all of the ingredients are well combined. Let the vinaigrette sit for at least 30 minutes to allow the flavors to merry.
Cook quinoa according to package instructions.
Fry the bacon or bake it according to these directions
Now assemble your Tuna and Bacon Quinoa Bowl!
Store the leftovers in separate containers and assemble each Tuna and Bacon Quinoa Bowl right before serving (otherwise your ingredients might become soggy).
The night before, I like to cook the quinoa and bacon, and make the vinaigrette.
Recipe by
Allergy Free Alaska
at https://www.allergyfreealaska.com/tuna-bacon-quinoa-bowl-with-lemony-vinaigrette/