Sausage Stuffed Mini Peppers with Kale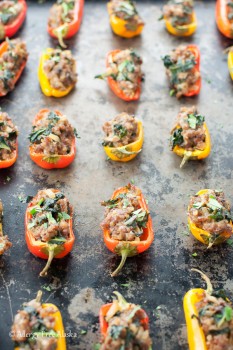 Author:
Megan Ancheta, Allergy Free Alaska LLC
1 pound gluten-free pork sausage (I use Natural Jimmie Dean)
3/4 teaspoon crushed red pepper flakes
1/3 cup minced shallot
1 1/2 cups minced mushrooms
1 1/2 cups minced kale
1/3 cup finely shredded Romano cheese, optional
2 tablespoons blanched almond flour (or gluten-free bread crumbs for nut-free)
1 large egg
16-20 mini sweet peppers
In a 12-inch skillet (I use this cast iron one), cook the sausage with the crushed red pepper flakes until cooked through. Use your spatula to break the sausage up into small pieces while cooking. Remove the cooked sausage from the skillet and place on a plate lined with paper towels. The paper towels will help absorb excess oil. Set aside.
If there is more than 1 teaspoon of oil left over from cooking the sausage in the skillet (just eyeball it), wipe it out with paper towels, but leave at least a teaspoon. Place the shallot, mushrooms, and kale in the skillet and cook over medium heat until soft. Remove from heat, and place the veggie mixture into a medium-sized mixing bowl. Add the sausage to the veggies in the bowl, and place in the refrigerator until room temperature, about 20 minutes.
Preheat oven to 400 degrees.
Slice the mini sweet peppers in half lengthwise, leaving the stem in tact. Remove the seeds (it's okay if there are a few seeds remaining).
Remove the bowl from the refrigerator, and add the finely shredded Romano cheese, blanched almond flour, and egg. Stir until combined.
Use a small spoon to press the filling into the peppers, one at a time. Divide the stuffed peppers between 2 – 9 x 13 x2 baking dishes (I use these Pyrex dishes) and place the peppers pepper-side down. Cover with aluminum foil, and bake for 20 minutes. Serve warm or at room temperature.
If you don't consume pork, feel free to substitute beef or turkey sausage instead!

To measure the kale, I mince it and then pack it into my measuring cups to get the measurements.
Recipe by
Allergy Free Alaska
at https://www.allergyfreealaska.com/sausage-stuffed-mini-peppers-with-kale/