Smoked Salmon and Veggie Frittata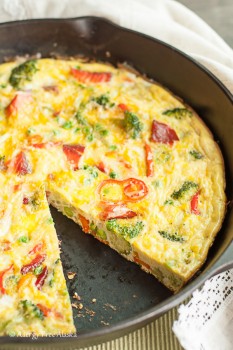 Author:
Megan Ancheta, Allergy Free Alaska LLC
12 large eggs, beaten
1 tablespoon ghee (or olive oil, vegan butter, etc.)
2 1/2 cups bite-sized broccoli florets
1 cup sliced mini sweet peppers (or bell peppers)
1/2 cup diced onion
1/2 cup frozen peas
1 cup flaked smoked salmon (I use homemade, but store bought is okay too)
1/3 cup shredded Romano cheese (omit for dairy-free)
sea salt & freshly ground pepper to taste
Preheat oven to 375 degrees (F).
Warm the ghee in a 12-inch non-stick skillet (I prefer to use cast iron) over medium heat. Add the broccoli florets, sliced mini sweet peppers, and diced onion. Season with sea salt and freshly ground black pepper. Cook until the veggies are soft, but still a bit crisp.
Stir in the frozen peas and smoked salmon.
Sprinkle the Romano cheese over the skillet mixture, and then pour in the beaten eggs. Stir well, and use a spatula to evenly distribute the ingredients over the bottom of the skillet.
Continue cooking the frittata, without stirring, over the burner for an additional 45-60 seconds. Just until the outside edge of the frittata begins to set.
Carefully place the hot skillet in the oven and bake for 10-14 minutes, just until the eggs are set. If you bake the frittata for too long, the top will brown. Let the frittata set for at least 5 minutes before cutting. Serve hot or cold.
Recipe by
Allergy Free Alaska
at https://www.allergyfreealaska.com/smoked-salmon-and-veggie-frittata/