Smokey Chicken and Green Beans Over Quinoa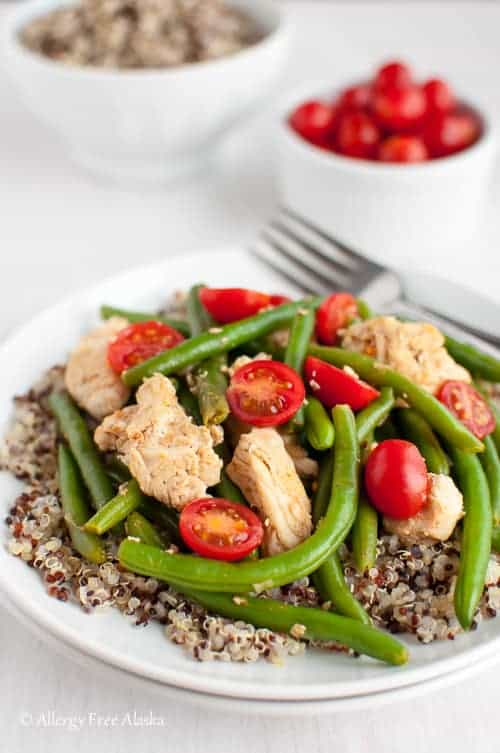 2 lbs. chicken breasts (about 4 large)
24 oz. frozen green beans (about 8 cups)
2/3 cup thinly sliced shallots
2-3 garlic cloves, minced
2 tablespoons ghee (or coconut oil or olive oil or butter)
1 teaspoon smoked paprika, divided
1/4 teaspoon sea salt + more to taste
1/4 teaspoon ground black pepper
1 cup grape tomatoes, halved (or cherry tomatoes)
1 cup uncooked tri-color quinoa
Use paper towels to blot any excess moisture from the chicken breasts, and then place them in a gallon sized sealable bag. Put the bag on top of a large cutting board, and use the smooth side of a meat tenderizer/mallet to pound the chicken until it is about 1/2-inch thick (if you don't have a meat tenderizer/mallet, you can also use a heavy rolling pin to beat the chicken).
Remove the chicken breasts from the bag and cut into 1-inch pieces. Discard the bag.
In a 12-inch skillet (I recommend this pan), warm the ghee over medium heat. Add the shallots and garlic and cook for 1-2 minutes.
Turn the heat to high and carefully place the chicken in the pan. Season with 1/2 teaspoon of smoked paprika, sea salt and ground black pepper. Stir occasionally and cook for 10 minutes.
Add the frozen green beans to the skillet and season with the remaining 1/2 teaspoon of smoked paprika. The skillet will be full, so very carefully use a pair of tongs to toss the green beans with the chicken. Toss occasionally, and continue to cook for about 7 minutes, or until the green beans are hot.
Remove from heat and toss in the grape tomatoes. Season with more sea salt if desired. Serve hot over quinoa.
Cook according to package directions, or use The Better Way to Cook Quinoa method: Place the uncooked quinoa in a saucepan with 6 cups of water. Bring to a boil and simmer for 12-15 minutes, or until done. Strain through a fine mesh sieve and transfer the quinoa to a medium sized bowl. Let rest for 5 minutes, and then gently fluff with a fork.
Tri-color quinoa is a blend of black, red, and yellow quinoa. Feel free to use any color of quinoa you prefer.

If you have fresh green beans on hand, I'm sure they will probably work fine in this recipe. You just might need to cook them a little longer than what the recipe calls for.
Recipe by
Allergy Free Alaska
at https://www.allergyfreealaska.com/smokey-chicken-and-green-beans-over-quinoa/