Gluten-Free Chocolate Cupcakes with Toasted Marshmallow Frosting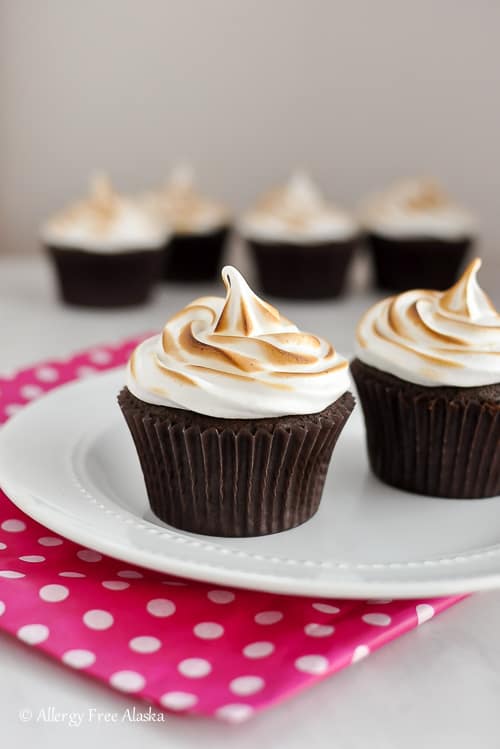 8 egg whites
2 cups organic cane sugar
1/2 teaspoons cream of tartar
2 teaspoons vanilla extract
Preheat oven to 350 degrees (F) and line a muffin tin with 20 paper liners.
In the bowl of an electric mixer, cream together the vegan butter and the organic cane sugar.
Add the unsweetened applesauce, apple cider vinegar, vanilla extract, coffee, and eggs, and mix until combined.
In a large mixing bowl, whisk together the sorghum flour, millet flour, brown rice flour, tapioca starch, cocoa powder, psyllium husk powder, baking soda, and sea salt.
Slowly add the flour mixture into the wet ingredients, and stir until just combined. It's okay if there are a few lumps.
Divide the batter between the 20 paper-lined tins, filling each about 2/3 full.
Bake for 15-17 minutes, or until a toothpick, when inserted into the center of a cupcake, comes out mostly clean (a few loose crumbs is okay). Really watch these cupcakes during the last few minutes of baking. If baked too long, they will be a little on the dry side. Transfer the cupcakes to a wire rack to cool.
Fill a medium sized saucepan with an inch of water and place over medium heat. Bring to a boil.
Mix the egg whites, organic cane sugar, and cream of tartar in a medium to large sized heat-safe mixing bowl (whatever size works best to nest on top of the saucepan, without touching the water).
Place the mixing bowl on top of the saucepan, and whisk constantly until the organic cane sugar dissolves and reaches 170 degrees F. Remove from heat and carefully transfer the contents into the bowl of an electric mixer.
Whisk on low for 30 seconds and gradually increase speed to high. Whisk for an additional 6-8 minutes, or until stiff glossy peaks form.
Add the vanilla extract and mix until combined.
Immediately place the frosting into a piping bag with a 1/2 inch star tip and frost cooled cupcakes.
Use a kitchen torch to carefully toast the marshmallow frosting.
Make sure all of your ingredients are at room temperature.

Fluff your flours, starch, and cocoa and then use a spoon to sprinkle the flour into the measuring cup. Use the back of a knife to scrape off the excess and level off the cups.

FYI - The marshmallow frosting recipe makes a large amount, so feel free to liberally top your cupcakes (even more-so than what I have pictured).

Add 1/3 cup of chocolate mini chips to the cupcake batter if desired.
Recipe by
Allergy Free Alaska
at https://www.allergyfreealaska.com/gluten-free-chocolate-cupcakes-with-toasted-marshmallow-frosting/