Grain Free & Vegan Twisted Flax Sticks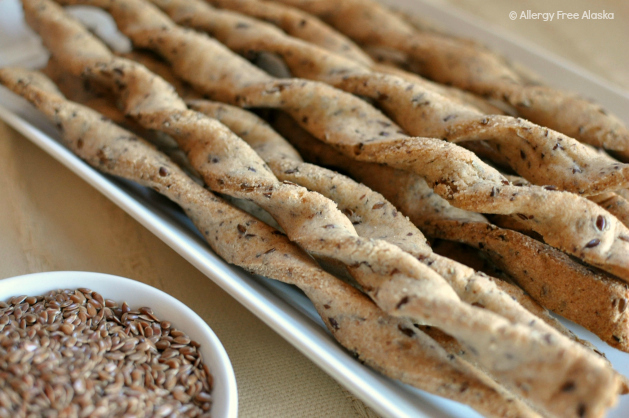 In a small mixing bowl, combine the flax seed meal and the 1/3 cup hot water. Set the slurry aside to thicken up for at least 5 minutes.
Preheat the oven to 375 degrees (F) and line 2 large baking sheets with parchment paper or silicone liners.
In the bowl of an electric mixer, whisk together the blanched almond flour, tapioca starch, arrowroot starch, powdered psyllium husk, coconut flour, baking powder, sea salt, garlic powder, and onion powder.
Stir in the olive oil and flax seed meal slurry, and then slowly pour 1/3 cup of warm water into the flour mixture and stir until combined.
Let the dough rest for 5 minutes to allow the psyllium husk powder and coconut flour time to expand and absorb the liquid.
If the dough is still dry and crumbly, continue to add additional warm water, a tablespoon at a time, until the dough easily comes together to form a workable dough.
Stir in the whole flax seeds.
Cover a clean work surface with a large piece of parchment paper and use a rolling pin to roll the dough out in a circle until it's thinner than 1/4 of an inch thick, but thicker than an 1/8 of an inch. The dough should be very easy to work with, but if it starts to stick to your rolling pin, simply place another large sheet of parchment paper on top of the dough, and roll it out between the layers of parchment paper.
Use a pizza cutter or a large kitchen knife to cut the dough into long strips, that are approximately 8-9 inches long, and 1/2 inch thick.
Carefully pick up one of the dough strips, gently twist it 3-5 times, and then place it on one of the baking sheets. Slightly press each end into the baking sheet to prevent it from unraveling. Continue until all of the dough strips are twisted and divided up between the 2 large baking sheets.
Bake for 15 minutes, and then flip each of the strips over. Bake for an additional 10 minutes or until slightly golden. Cool completely before enjoying.
Recipe by
Allergy Free Alaska
at https://www.allergyfreealaska.com/grain-free-vegan-twisty-flax-sticks/