Big & Soft Paleo Ginger Molasses Cookies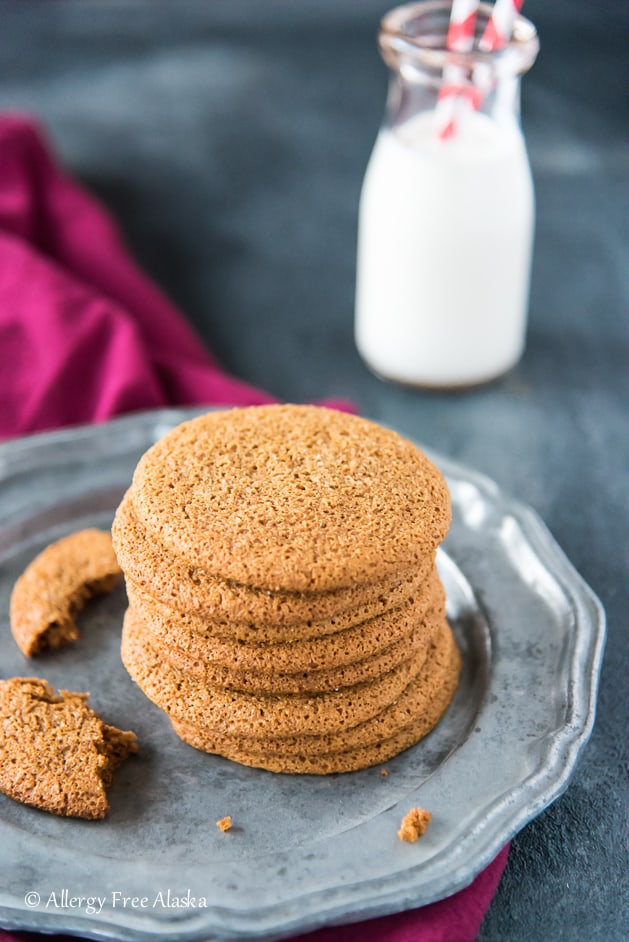 1 1/2 cups blanched almond flour (I use Honeyville)
1/2 cup arrowroot starch or tapioca starch
1/4 cup coconut flour
2 teaspoons ground ginger
1 teaspoons baking soda
3/4 teaspoon ground cinnamon
1/2 teaspoon ground cloves
1/4 teaspoon sea salt
1/2 cup coconut oil, just melted
1/4 cup unsulphured molasses
1/4 cup honey or pure maple syrup
1 egg
Preheat oven to 350 degrees (F).
In a large mixing bowl, combine the almond flour, arrowroot starch, coconut flour, ground ginger, baking soda, ground cinnamon, ground cloves, and sea salt.
Mix in the coconut oil, unsulphured molasses, honey or pure maple syrup, and the egg and mix until combined.
Drop heaping tablespoons of dough onto a parchment or silicone lined baking sheet.
Bake for 9-12 minutes. Leave the cookies on the baking sheet to cool (otherwise they will be very soft and will break apart).
Recipe by
Allergy Free Alaska
at https://www.allergyfreealaska.com/big-soft-paleo-ginger-molasses-cookies/