Chocolate Chip Doughnuts with Chocolate Glaze (Grain Free)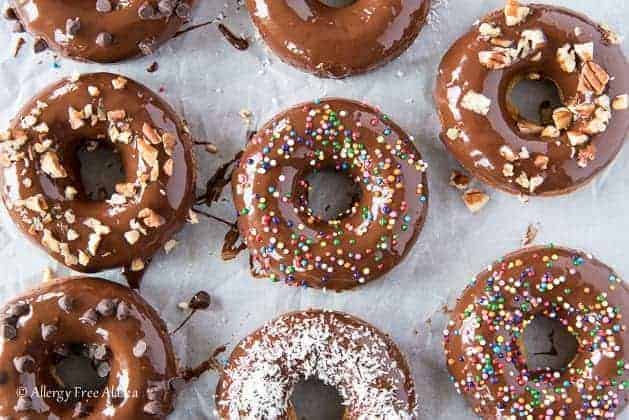 Serves:
about 8 doughnuts
1 1/2 cups blanched almond flour, gently packed + more for dusting the doughnut pans
2 tablespoons arrowroot starch or tapioca starch
1 1/2 teaspoons baking powder
1/2 teaspoon sea salt
1/2 teaspoon nutmeg
1/4 cup solidified coconut oil
2 eggs
3 tablespoons runny honey
2 tablespoons almond milk
1 teaspoon vanilla extract
3-4 tablespoons Enjoy Life Chocolate Chips
Preheat oven to 325 degrees (F) and generously grease 2 doughnut pans (I use these pans) with palm shortening. Dust with almond flour, and knock off the excess into the sink or a trash can.
In a large mixing bowl, combine the blanched almond flour, arrowroot starch, baking powder, sea salt, and nutmeg. Cut in the coconut oil until the mixture resembles coarse crumbs.
Whisk in the eggs, almond milk, honey, and vanilla extract. Stir in the chocolate chips.
Transfer the batter to a piping bag or a plastic storage bag (snip off one corner for piping) and pipe into the prepared pan, filing each well about 2/3 full.
Bake for 13 - 16 minutes, or until a toothpick comes out clean when poked into one of the doughnuts. Cool for 5 minutes before removing from the pan and placing on a wire rack to completely cool (I use a butter knife if necessary to loosen the edges of the doughnuts from the pan).
For the Chocolate glaze, place the chocolate chips and the palm shortening in a small microwavable bowl, and microwave on high in 30 second increments, stirring each time, until the chocolate chips and palm shortening are melted and mixed until smooth.
Place doughnuts, one by one, upside down half way into the chocolate glaze. Remove and place right side up on a piece of parchment or waxed paper to set. If toppings are desired, sprinkle the doughnuts with desired toppings and place immediately in the freezer to set for 5 minutes (otherwise the toppings will slide off). Remove from the freezer and store in an airtight container at room temperature.
Recipe by
Allergy Free Alaska
at https://www.allergyfreealaska.com/grain-free-chocolate-chip-doughnuts-with-chocolate-ganache/