Sugar Free Triple Berry Cobbler (Grain & Nut Free)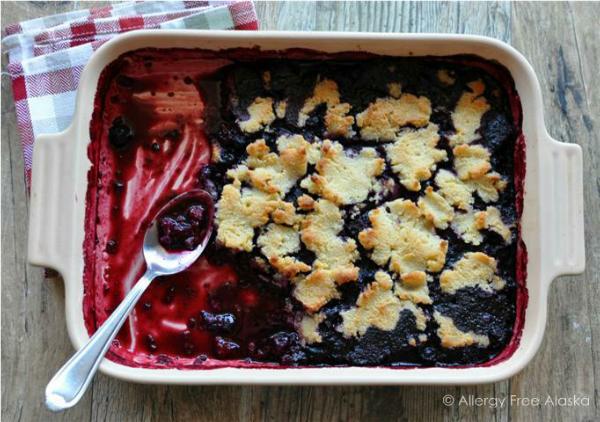 8 cups frozen triple berry blend
3 tablespoons arrowroot starch
1 teaspoon cinnamon
1/2 teaspoon nutmeg
1/4 teaspoon NuNatural's Vanilla Stevia
4 eggs, at room temperature
1/2 cup coconut oil, just melted
1/2 cup coconut flour
1/4 teaspoon sea salt
1/4 teaspoon baking soda
1 teaspoon vanilla extract
15 drops NuNatural's Vanilla Stevia
Zest of 1 lemon (about 2-3 teaspoons)
Preheat oven to 400 degrees (F), and lightly grease a 9x13 baking dish.
Place the berries in a large mixing bowl and thaw at room temperature until they are just starting to turn soft and juicy. Do not completely thaw.
Add in the arrowroot starch, cinnamon, nutmeg, and vanilla stevia and toss until the berries are well coated in the mixture.
Place the berries in the baking dish and use a spatula or the back of a spoon to evenly distribute them in the pan.
In the bowl of an electric mixer, whisk together the eggs, coconut oil, and coconut flour. Stir in the sea salt, vanilla extract, vanilla stevia, and lemon zest. Crumble the dough topping evenly over the berries.
Bake until golden brown and bubbly, about 25 - 35 minutes. Serve warm or at room temperature with your favorite ice cream.
Recipe by
Allergy Free Alaska
at https://www.allergyfreealaska.com/sugar-free-triple-berry-cobbler-grain-nut-free/