Gluten & Dairy Free Dinner Rolls (Plain, Garlic & Rosemary, or Onion)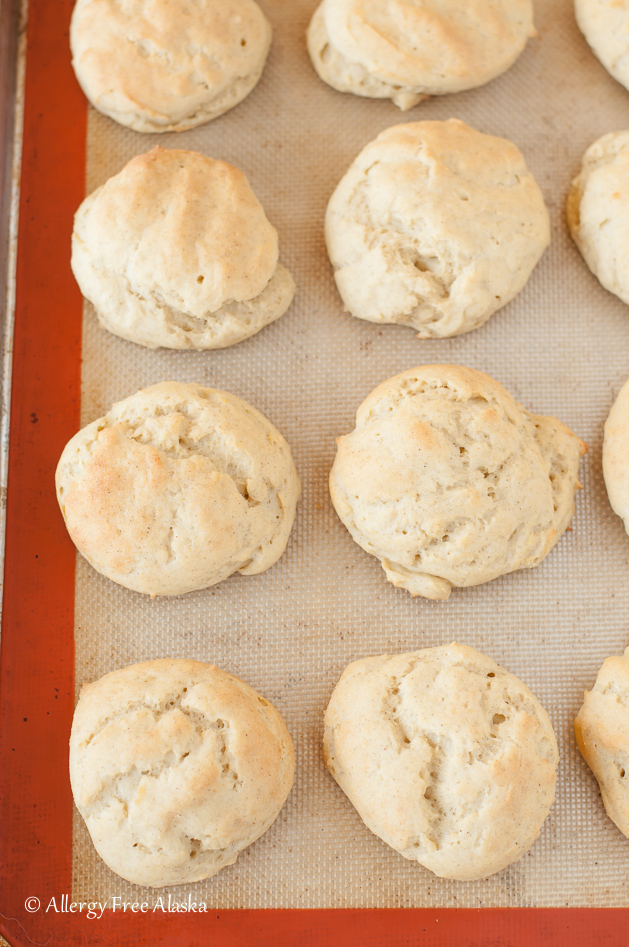 3/4 - 1 cup hot water, divided (between 105 - 115 degrees F)
1 tablespoon honey
2 teaspoons dry active yeast
2 eggs
2 tablespoons olive oil
1/2 teaspoon apple cider vinegar
1 teaspoon dried crushed rosemary
2 garlic cloves, minced
2 tablespoons dehydrated onion flakes
1 teaspoon onion powder
In a small mixing bowl, combine the honey and 3/4 cup hot water. Sprinkle in the yeast and give it a quick stir to combine. Allow to proof for 7 minutes (set a timer!) – NO more, NO less time. Make sure to have the other wet and dry ingredients mixed and ready to go when the 7 minutes are up!
Using a heavy duty mixer with a paddle attachment, combine the dry ingredients. If you are making either the garlic & rosemary or onion flavors, make sure to include the dried rosemary and garlic, or the onion powder and dehydrated onion.
In a separate mixing bowl, whisk together the eggs, oil, and vinegar.
When the yeast is done proofing, add the wet ingredients to the dry. Stir until it's a little paste-like and then slowly add the yeast mixture. Using the mixer's low speed setting, mix for about 30 seconds. Scrape the sides of the bowl and then mix on medium 2-3 minutes or until the dough is smooth (you may need to scrape the sides of the bowl a few more times). Add up to 1/4 cup of additional water to get the dough to the necessary consistency (as pictured and explained above), but start by adding 1 tablespoon at a time.
Drop the dough using an ice cream scoop onto a parchment or silicone lined cookie sheet. There is just enough dough for 12 rolls, so divide the dough up equally between the 12.
Wet your fingers and use them to shape the dough into circles or fix the imperfections (they don't have to be perfect). Flatten each ball of dough so that it's approximately 3/4 -1 inch thick (keep wetting your fingers as you go along so that the dough does not stick to them).
Allow the rolls to rise in a warm spot for approximately 20 minutes.
Preheat the oven to 375 degrees (F). When the oven is fully preheated, bake the rolls for approximately 17 – 19 minutes (so they have a rising time of about 30 minutes total before placed in the oven to bake). They will be nice and golden brown when finished baking.
Remove the rolls from pan and allow them to cool on a wire rack. Cool for at least 15 - 20 minutes before serving.
Recipe by
Allergy Free Alaska
at https://www.allergyfreealaska.com/dinner-rolls-2-ways-garlic-rosemary-rolls-and-onion-rolls-gluten-free-dairy-free-soy-free/