These pictures are the personal property of Megan Ancheta, © copyright 2013 Allergy Free Alaska, LLC. They may not be copied or reproduced without prior written consent. Thank you for your courtesy!
We are home from visiting Denali National Park & Preserve. It was incredible – definitely a trip of a lifetime.
Back in June I applied for the Denali National Park Road Lottery. Every year the park opens the entire park road (weather permitting) for 4 days to lottery winners (you can read all about the lottery and get the details here). We were very blessed to be selected this year, so we decided to turn it into a mini weekend vacation getaway. This picture was taken at the park entrance. When we were walking up to the sign a gentleman asked us if we'd like him to take our picture – and come to find out, his wife, Sarah, who I had never met, recognized me from Allergy Free Alaska. It was so great to meet them. 🙂 And thank you, Sarah's hubby, for taking our picture!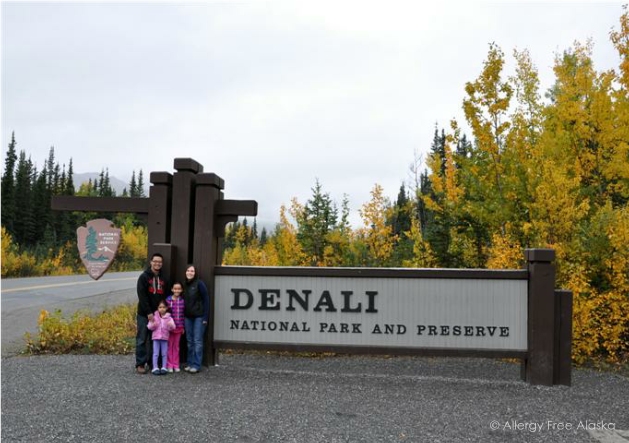 There are quite a few places to stay and eat in the Denali area; however, few places are familiar with the gluten free/allergy free lifestyle. I knew staying at a big hotel and relying on their restaurant for food wasn't going to work. So thanks to the suggestion of one of you on Facebook, we decided to reserve the Maggie's Place Cabin with Denali Adventure Lodges in Cantwell, Alaska (it's about 20 minutes away from the Denali National Park entrance). It is a 2 bedroom, 1 bath cabin, complete with plumbing/running water and a kitchen on a small private lake. It was perfect, and there was even a grill outside.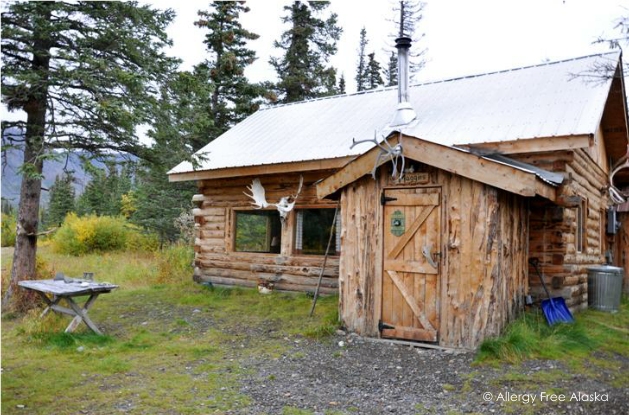 Maggie's Place Cabin is really special. It's not a 5 star resort by any means… it's a rustic Alaskan cabin, complete with its own quirks, but we all loved it and can't wait to go back someday. And you can't beat the views out of the large windows of the cabin: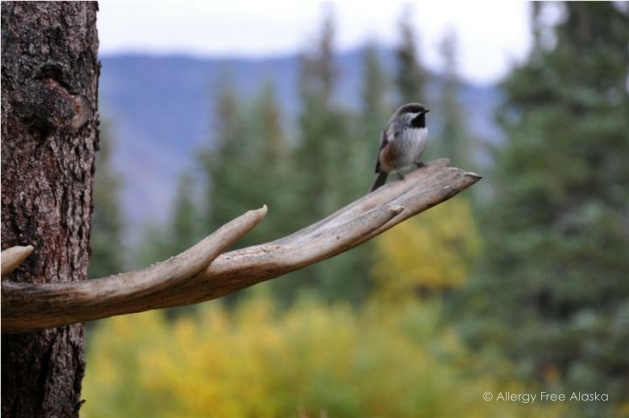 On Saturday, we headed to Denali National Park. We checked in with the Visitor's Center to get our lottery day pass, but there was one other very important thing we had to do. A few days before leaving for Denali, Kylie filled out her paperwork to become a Denali Junior Ranger which is a program designed to educate children all about the wildlife, wilderness and people of Denali. FYI, children don't have to live in Alaska to participate in this program, they can also submit their paperwork via mail. Just check the Denali Junior Ranger Program for details.
Also, to learn more about Denali, earlier last week we watched the National Geographic's Extreme Alaska: Denali National Park. If you have Netflix, it is available to instant stream, but you can also purchase it on Amazon. We enjoyed it and we think you will too.
Kylie saying the Denali Junior Ranger Pledge: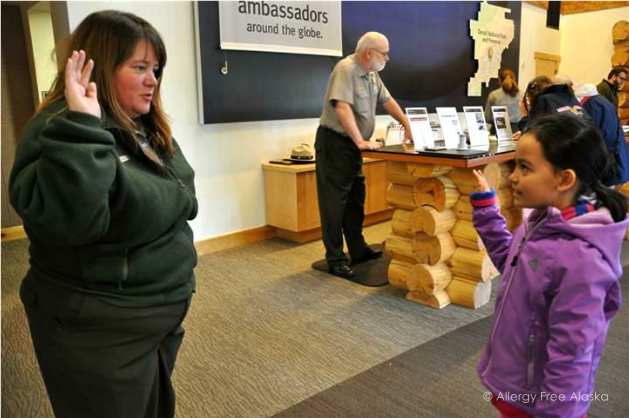 When we did drive into the park it was cloudy and overcast. Visibility was low and we couldn't see Mt. McKinley, but we still enjoyed the sites of the park. The fall colors were out in full force, which was such a treat. We normally don't see many bright reds and oranges in our area where we live, so I think those colors are extra special. The views were spectacular. And the land went on and on… stretching for hundreds of miles with no end in sight.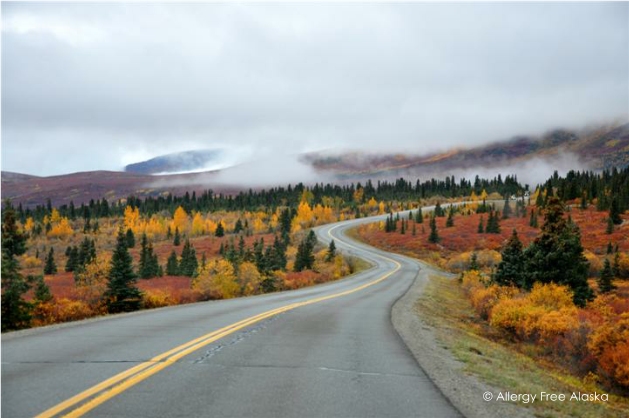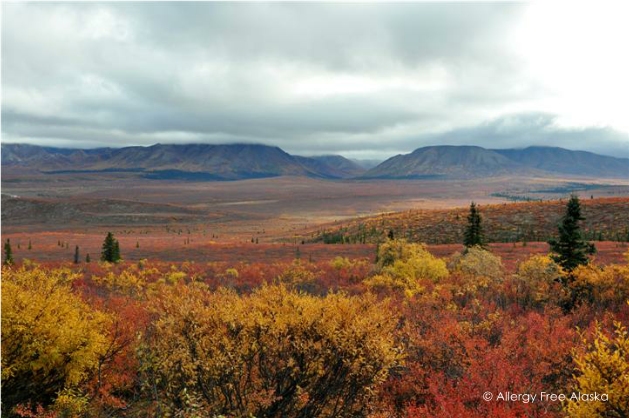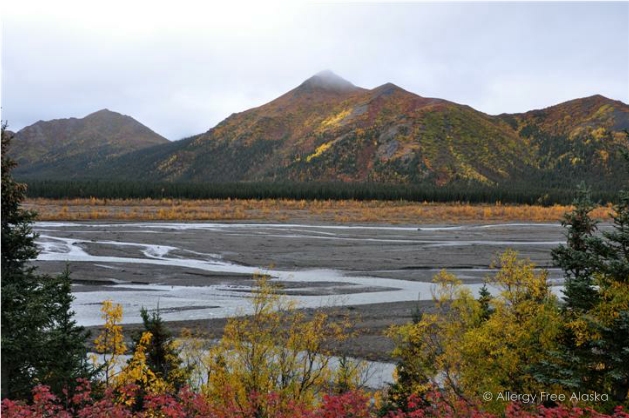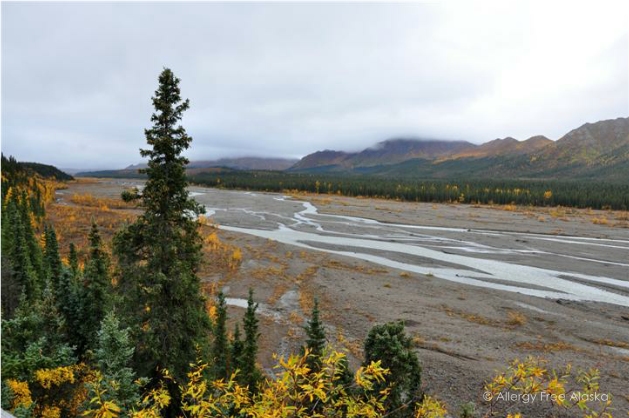 We traveled into the park a total of 43 miles, but it took us over 2 hours one way. Only the first 15 miles of the park are paved and some portions of the road are rough. They go through mountain passes without guard rails and can be dangerous if not driven carefully. The speed limit is 35 mph, but we generally drove slower because we were looking for wildlife or stopping to take pictures of the scenery or use the rest rooms. Speaking of the rest rooms… only in Alaska can you use a potty where a two by four and a reinforced door protect you from the outside elements (like wildlife). Thank God we were only shutting the door for privacy and not because of bears… or moose… or wolves!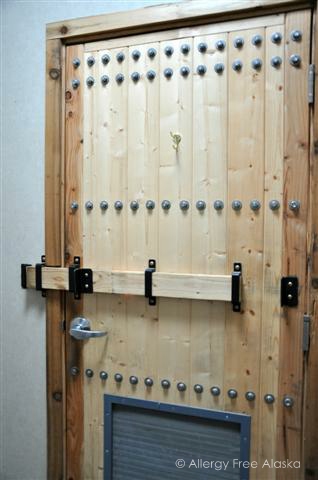 Speaking of wildlife, we didn't see much, but when we finally decided to turn around and start our journey out of the park we were blessed to see these fellas across a ravine and on the side of a mountain. It was so cool. I've seen bears in the wilderness before, but what an awesome thing for our girls to be so young and able to see brown bears, not at a zoo, but in their natural habitat.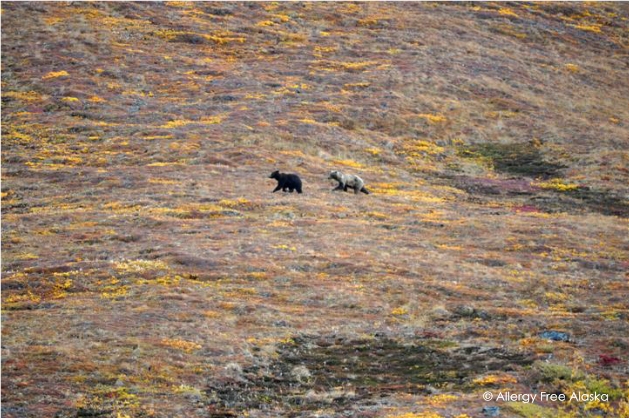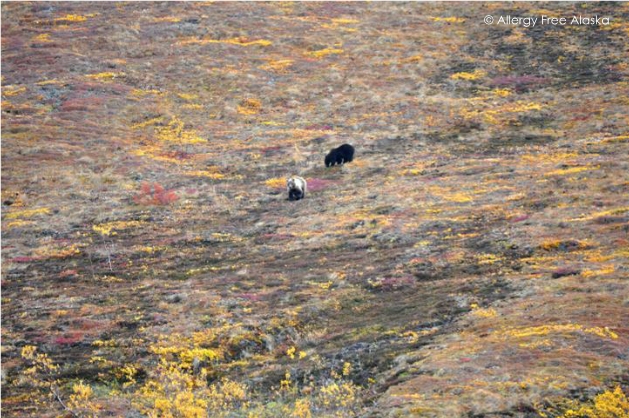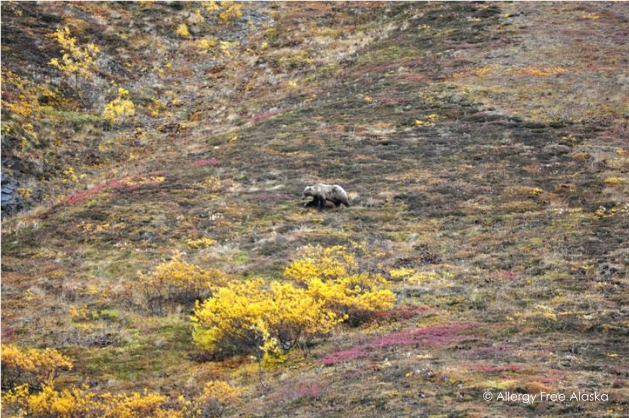 This is one of the last pictures I took as we were exiting the park and it's one of my favorites. The scenery reminds me of a post card!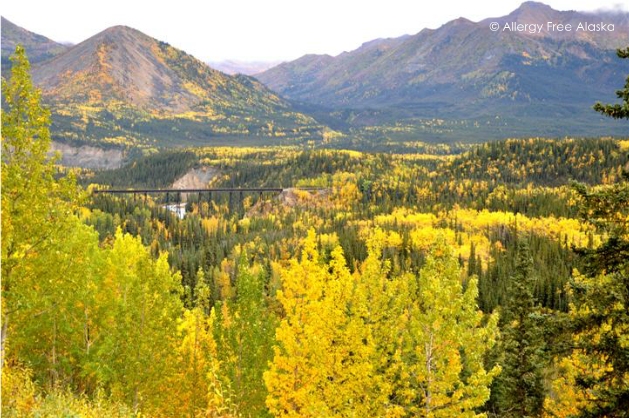 After leaving the park, we decided to drive north to visit some gift shops and Black Bear Coffee House, which is known for not only their selection of amazing coffees, but their gluten free/vegan fare. The coffee house has a laid back and friendly vibe, with local artwork displayed and for sale throughout. We met the owner, Becki, who also has multiple food allergies (so she totally gets things like cross contamination and all that goes along with having food allergies). Becki was gracious and sweet and she and her staff made sure our family was well fed and taken care of. I can't tell you what a treat it was for me not to have to cook that evening! AJ had the Turkey Dill sandwich on wheat bread (my husband is not GF, but the coffee house keeps Udi's Bread on hand for anyone needing a gluten free option) and Kylie and I both had the Bearito Bowl, which is a mix of seasoned black beans and fajita vegetables over a bed of cilantro seasoned rice and topped with fresh homemade salsa and guacamole. It was delicious. Abbi, my somewhat picky eater, didn't have anything on the menu, but had a mix of things I asked for and knew she would eat: rice, turkey lunch meat, cucumbers, and carrots.
In addition to providing gluten free meal options, Black Bear Coffee House also sells gluten free/vegan desserts. Although I'm not supposed to have any forms of sweetener, I broke down and sampled a triple berry oat bar (it was sweetened with pure maple syrup) and a chocolate almond cookie topped with sea salt. I was on vacation and just couldn't resist (do you blame me?). Both were wonderful.
Black Bear Coffee House closes down today, September 16th, for the winter, but will reopen again for business next summer. If you are in the Denali area, I highly recommend them. They are located at mile 235.5 of the Parks Highway. Their staff is friendly, the food and coffee are amazing, and they are more than accommodating for those of us with food allergies. We definitely will be back to visit again!
We saw this an amazing rainbow on the way to the gift shops and Black Bear Coffee House: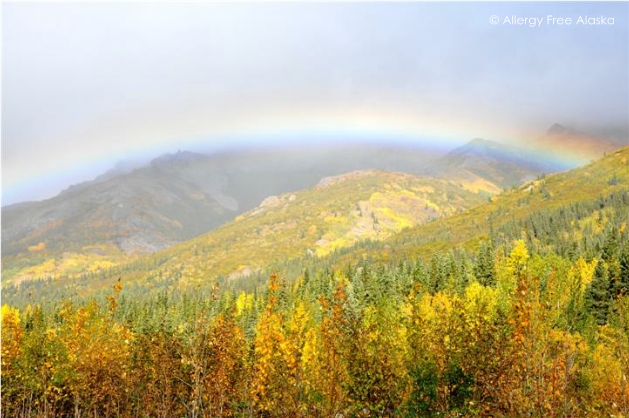 My one vacation splurge from the gift shops: rabbit and calf skin slippers. They were 70% off and are so warm!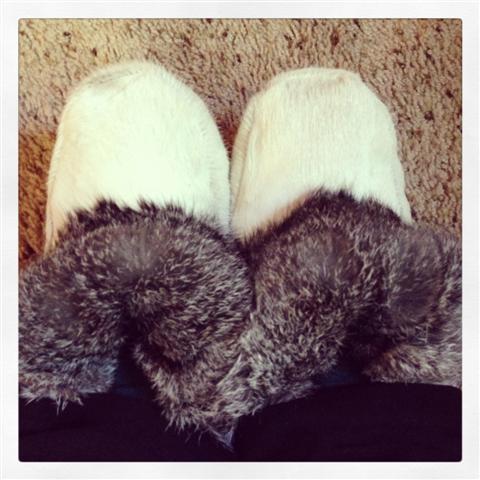 Sunday we left for our drive home. Surprisingly the clouds were gone and there was nothing but blue sky for miles and miles. God most definitely was smiling down on us, because it is very, very rare to be blessed with a clear view of Mt. McKinley, but He did it. He blessed us with an incredible view. Isn't she breathtaking?
This picture was taken about 20 minutes south of Cantwell, Alaska.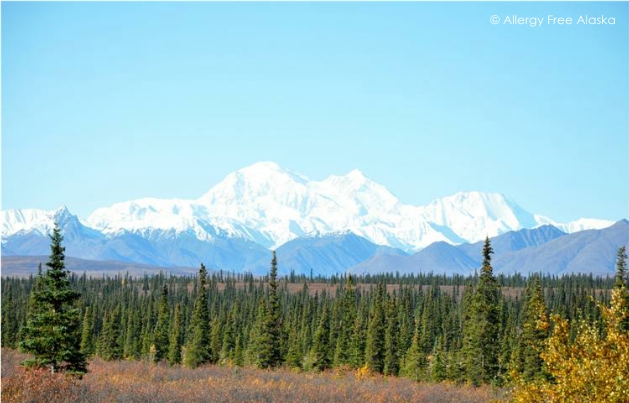 These pictures were taken further into our drive, from the south side viewpoint of Mt. McKinley. They are still beautiful, but the picture above, taken just outside of Cantwell, is my favorite.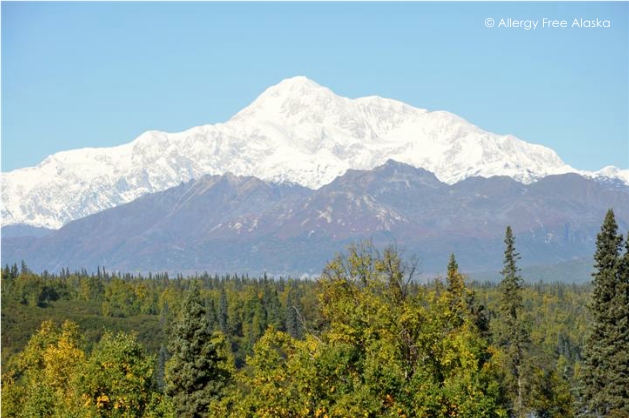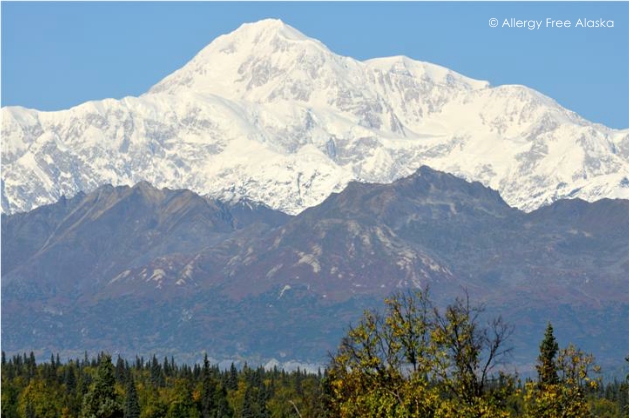 Course, when you're road tripping, snacks for the drive are essential. Before we left I made a huge batch of Denali Trail Mix, which we snacked on the entire trip. It quick, healthy, convenient, and sure to satisfy!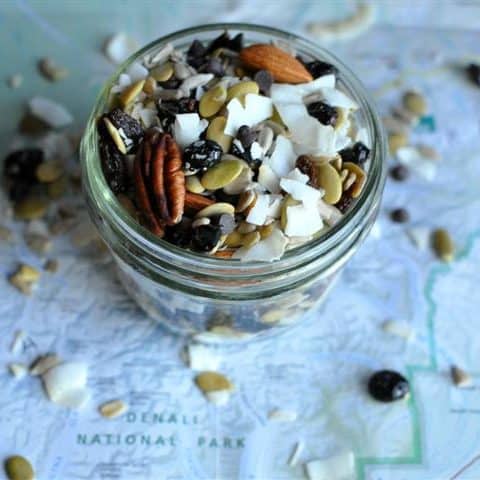 Denali Trail Mix
Whether you're road tripping or just need a quick snack to throw in your bag and go, this trail mix is convenient and sure to satisfy!
Ingredients
1 cup flaked unsweetened coconut
1 cup raisins or dried cranberries
½ cup raw almonds
½ cup raw pecans or walnuts
½ cup raw pumpkin seeds
½ cup raw sunflower seeds
½ cup Enjoy Life Mini Chocolate Chips
Instructions
Combine all ingredients in a large mixing bowl and toss to combine.
Divide the trail mix between 9 sandwich baggies (about ½ cup of mix per bag) for a handy grab and go snack.
I hope you've enjoyed my pictures and hearing about our trip. We really did have an amazing weekend, but it's good to be home too!
All my love,
Megan
This post is linked to Wellness Weekend, Fight Back Friday, Slightly Indulgent Tuesday, Fat Tuesday and Allergy Free Wednesday.