Several weeks ago I received an email from the Paleo Parents asking if they could send me a copy of their new cookbook, Beyond Bacon, to review. Since I was logged in to my email account I got their message instantly. I immediately wanted to respond back with a resounding "YES!," but forced myself to wait at least 15 minutes before writing them back… I didn't want to appear too fanatical (even though I kind of am). Let me put it this way: asking me if I wanted to review a copy of Beyond Bacon was like asking Ralphie if he wanted a Red Ryder BB Gun for Christmas.
Yes. I was THAT excited. When Beyond Bacon arrived in the mail I quickly removed it from it's packaging and promptly kissed it's front cover… which left my husband and children very concerned.
But enough of my infatuation.
Matt McCarry and Stacy Toth of the Paleo Parents are the authors of Eat Like a Dinosaur: Recipe & Guidebook for Gluten-free Kids, and Beyond Bacon: Paleo Recipes That Respect The Whole Hog. Not only are they cookbook authors, but they are parents of 3 children (all active boys!). Stacy works full time (on top of writing cookbooks and managing a very successful website) while Matt holds it down at home with the kids (let's hear it for stay at home parents!). What I appreciate so much about Matt and Stacy is that they're real people, who work and parent and face health issues just like the rest of us do. And I think I fell even more in love with Stacy when she wrote Dear America, Get Over Your Fat Phobia. I also realized if I ever got into a fight, I'd definitely want her in my corner (that girl is strong!!!).
But here's what you really need to know about Beyond Bacon:
From front to back cover, this is easily one of the best laid out, thought out, and beautifully done cookbooks I've seen in a long while. The caliber of professionalism put into this book blew me away – from the beautiful pictures and illustrations to the knowledge shared. It's clear Matt and Stacy know a thing or two about hogs, and they share it all – everything you need to know – in Beyond Bacon.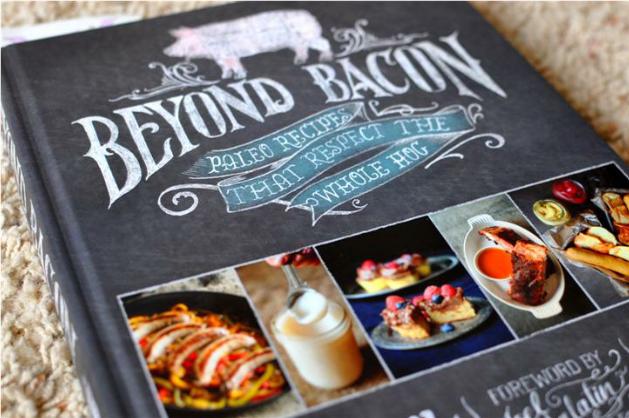 This cookbook schooled me in such a good way. It explains How to Find and Afford Pastured Pork, How to Order a Whole Hog, the parts of a hog (including the cuts of meat), etc… And then there's the recipe how-to's like How to Render Your Own Lard, How to Make Bacon, Pancetta, Sausage Links, Kielbasa, fried pork skins (see the Curried Cracklin's recipe on page 192), etc…
Simply put, Beyond Bacon is the all-in-one porkified resource any real food cook has dreamed of.
I think there just might be a hog revival.
"Praise the Lard!" ~Stacy Toth
Other Important Tid-Bits About Beyond Bacon:
I like the recipe layout. It's easy to pinpoint ingredients, yet the instructions are clear and simple to understand.
It's a hardcover book and has a good weight to it, so it will last years of use (and abuse) in any kitchen.
The pictures are stunning, yet simple and not overdone. They showcase the food – real food anyone (Paleo or not) would love to indulge in.
This is a guy-friendly cookbook – AND let me explain what I mean by that. My dad and brother cook, but are only interested in grilling big pieces of meat, making sausage, using the smoker, etc. I would never be able to go out and buy my favorite guys any cookbook off the shelf, which makes Beyond Bacon so special. It really appeals to not only the women, but the guys too (and I understand not all men are like my dad and brother, but you know what I mean).
It's family friendly cookbook and includes recipes even the little ones will enjoy.
Recipes from Beyond Bacon that I've made (and we loved):
Slow Roasted Shoulder pg. 140
BBQ Sauce, Carolina Style pg. 248
Egg Drop Soup pg. 112
In summary:
I have no doubts that Beyond Bacon is destined to become a bestseller. You need a copy of this book. In fact, order a few, because it makes great presents (I've already ordered a copy for a friend)!
Click here to buy your copy Beyond Bacon.
Click here to buy your copy of Eat Like a Dinosaur
All my love,
Megan