I'm totally guilty of stalking pictures of food online. I was on Foodgawker one night doing just that – drooling over the beautiful recipes and food photography when I kept stumbling upon one gluten free & Paleo website in particular: Bare Root, authored by the incredibly sweet and talented Angela Gallardo. I was instantly blown away by Angela's breathtaking photography and creativity. Angela's recipes truly are unique, and her latest cookbook, Bare Root Sweets is a reflection of that uniqueness.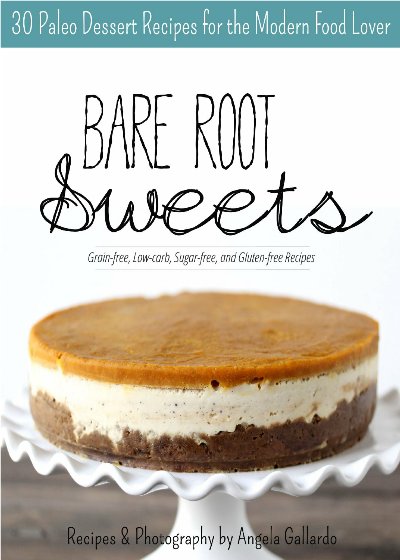 Bare Root Sweets is an excellent resource for anyone wanting to improve the quality and nutrition of their desserts. The recipes are grain-free, low-carb, sugar-free, and gluten free. They are nutrient dense, but BIG on flavor, not to mention they look amazing too. My girls got a hold of this cookbook when it first arrived and you should have heard the "oooohhhs" and "aahhhhhs" that proceeded, along with the, "Mommy, can we make this?! Wait, no… this one! Well, okay… maybe this one too!" When recipes from a "healthy" cookbook like this one can excite children, you know you've hit the jackpot.
I was really blown away by this little recipe book; it is very well done. There are a few comfort food favorites, like Coconut Caramel Cookies (think mock Girl Scout Samoas), Creamy Lemon Bars, Banana Cream Pies, and a gorgeous Blueberry Gallette. But then there are other unique recipes that you almost won't believe are grain free, like Chai-Spiced Carrot Cake with Maple Cream Frosting, Maple Bacon Caramel Apples, Lavender Dark Drinking Chocolate, and Apple & Sage Hand Pies.
Bottom line:
I highly recommend this cookbook. There are recipes in it that you won't find in any other Paleo cookbook. It is a must have for the health conscious cook or for those of us with special dietary needs. Not to mention, one could really WOW their holiday guests with a dessert recipe (or recipes) made from this book! The paperback edition sells for under $12 (you can't beat that!) or you can purchase the Kindle edition for around $2.99. The paperback version would be an excellent Christmas present!
Now for that giveaway I mentioned. Angela has generously supplied 2 copies of Bare Root Sweets to giveaway to 2 lucky winners! Winners will randomly be selected after the giveaway closes on December 18, 2013. Good luck!
This post may contain affiliate links which I may receive a small commission from (without any additional costs to you). The money earned from these commissions helps me maintain this website. Thank you for your support in this way!