These Easy Baked Paleo Chicken Tenders with Honey Mustard Dipping Sauce are an absolute hit with family and friends. Low carb eating never tasted so good!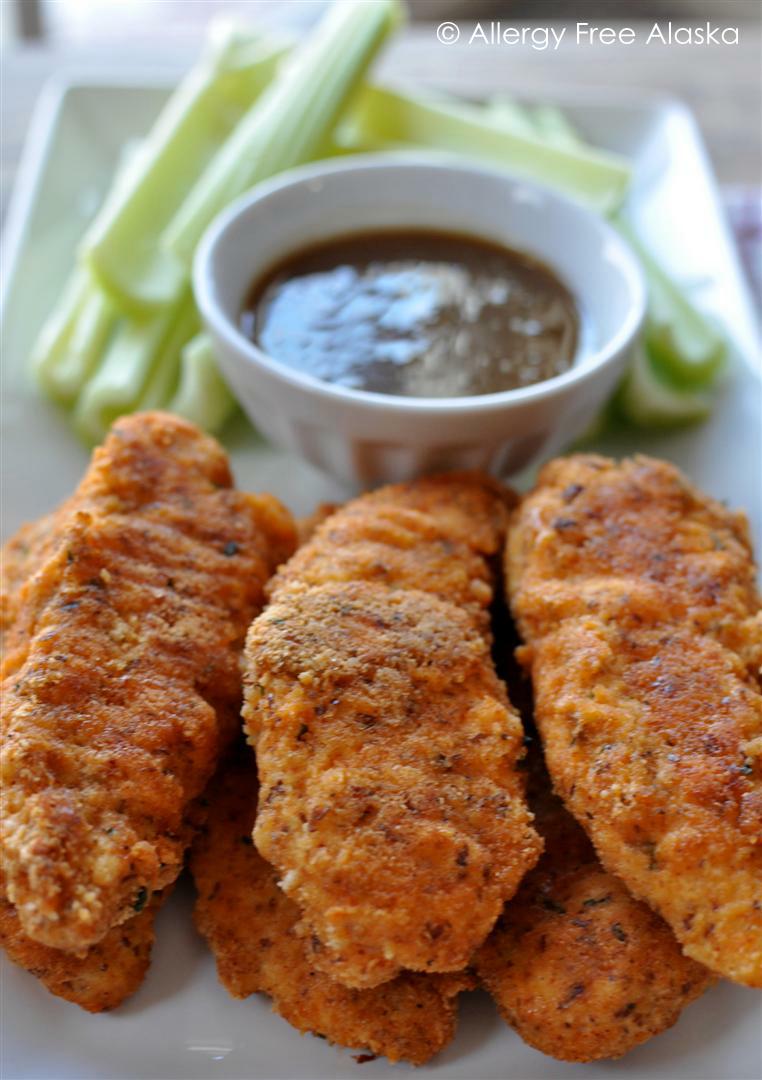 Do you remember what you ate in high school?
I do. It's scary to think what my diet mostly consisted of: saltines, goldfish crackers, mochas, Subway subs (I was a certified "sandwich artist"), whatever my mom could get me to eat, and chicken tenders and jojos (fried potato wedges) from our local grocery store deli. I loved those deli chicken tenders. Coated in gluten and soaked in hydrogenated fat (I know, they sound really appetizing when I put it that way).
Loved is definitely a past-tense word, though. Obviously it's been a while since I've had one of those super-unhealthy deli chicken tenders. Never again will I eat one, but I will eat one of my homemade chicken tenders…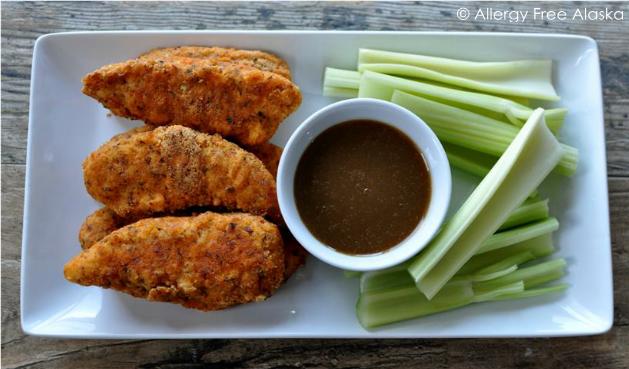 You will love these homemade and healthy Easy Baked Paleo Chicken Tenders. The breading is flavorful and they are so easy to make; there's no frying involved. You just dredge them in the breading and throw them in the oven to bake. They never get really crisp, but everyone will gobble them up. Leftovers (if there are any) never stay around for long.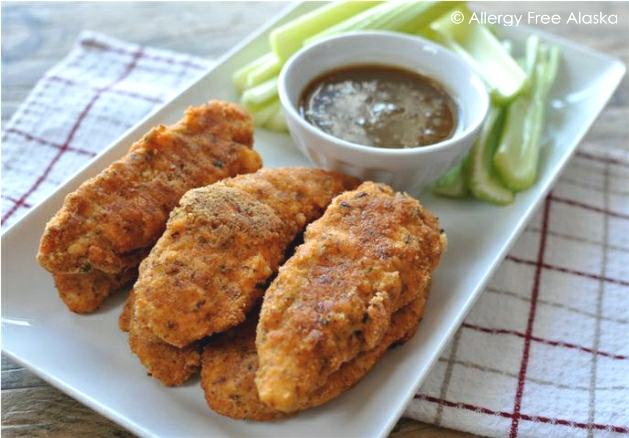 Easy Baked Paleo Chicken Tenders
Yields 4-6 servings
2 pounds chicken tenderloins
1 cup blanched almond flour (I use Honeyville)
1 tablespoon flax meal
1 teaspoon paprika
1/2 teaspoon garlic powder
1/2 teaspoon sea salt
1/2 teaspoon dried parsley
1/4 teaspoon poultry seasoning
ground black pepper to taste
2 eggs
olive oil, in a sprayer (Like this one)
Preheat oven to 425 degrees (F) and line 2 large baking sheets with parchment paper.
In a pie plate or another shallow wide bowl, mix together the almond flour, flax meal, paprika, garlic powder, sea salt, parsley, poultry seasoning, and ground black pepper.
In another small mixing bowl, lightly beat the eggs.
Blot the excess moisture off from the chicken tenders with paper towels and then dip them in the egg. Make sure the tenderloins are thoroughly coated in the egg mixture and then dredge them in the almond flour breading, pressing to adhere.
Divide the breaded chicken tenders up between the 2 baking sheets and lightly spray with olive oil. Place in the oven and bake for 8-9 minutes. Flip the tenders over, lightly spray again with olive oil and bake for another 8-9 minutes, or until the internal temperature reaches 180 degrees (F).
Transfer the chicken tenders to a platter and serve immediately, or at room temperature.
Megan's Recipe Notes:
These chicken tenders never become really crisp, but with the tasty breading, they quickly will become a family favorite!
Honey Mustard Dipping Sauce
Yields 5 tablespoons
3 tablespoons runny honey
2 tablespoons Dijon mustard (I use Annie's Naturals)
In a small mixing bowl, whisk together the honey and Dijon. Serve immediately or place in the refrigerator for later use.
Megan's Recipe Notes:
This dipping sauce is sweet; a little of it goes a long way. If it's too sweet for your taste, try adding a tablespoon of mayonnaise to tone it down.
And if Honey Mustard isn't your thing, try ketchup or Homemade Ranch Dressing.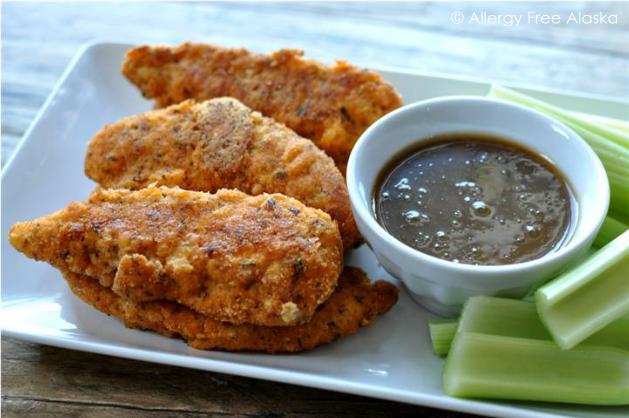 Enjoy!!
xoxo,
Megan
This post may contain affiliate links which I may receive a small commission from (without any additional costs to you). The money earned from these commissions helps me maintain this website. Thank you for your support in this way!
(Visited 355,456 time, 6 visit today)