I haven't been baking my Gluten & Rice Free Multigrain Bread as often as I used to since I've been trying to cut back on our family's bread intake. I'm still trying to eat mostly grain free too (I feel better when I'm mostly grain free). This morning though, my silly girl, Abbi (age 4), asked me to make "envelope" bread that you can stick peanut butter and jelly between (we've never referred to bread as an envelope, it was just her sporadic word of the moment). Course, then Kylie piped up and before I knew it, both girls were begging for peanut butter and jelly sandwiches.
PB & J it is. On a whim I decided to experiment with a new bread recipe, and let me tell you, this bread is hearty, dense, and makes one mean PB & J.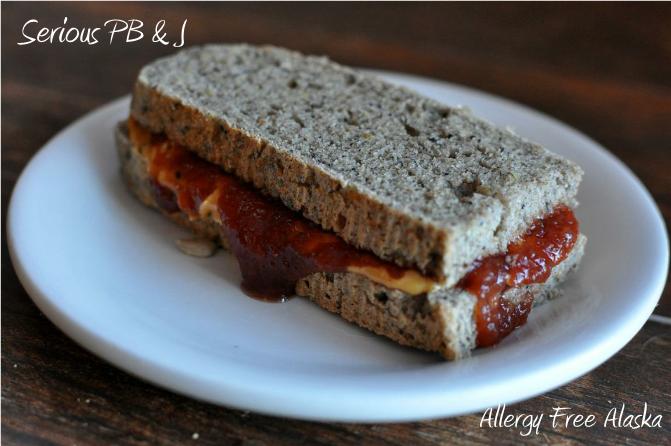 But this bread isn't just for PB & J's. It's the perfect bread to dip into your favorite olive oil and balsamic vinegar, or pair it with a hot bowl of soup and a salad. Whatever you decide to use it for, you can't go wrong. This is a great recipe.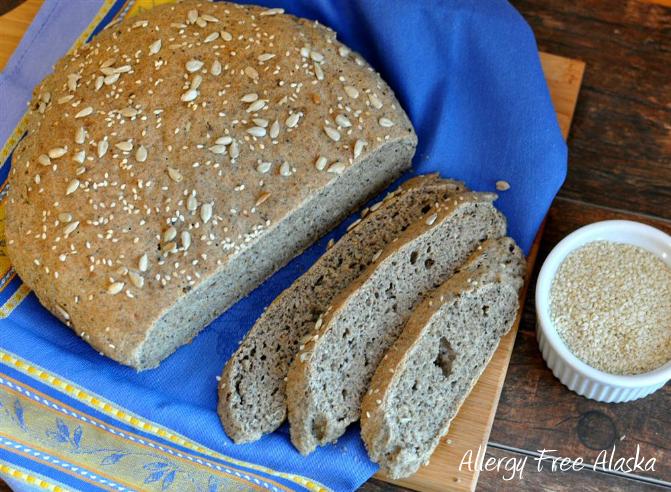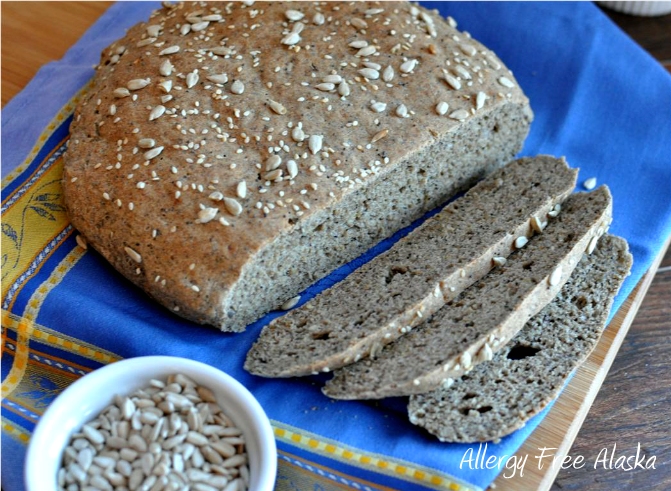 Gluten Free Country Seed Bread
2013-03-01 12:38:21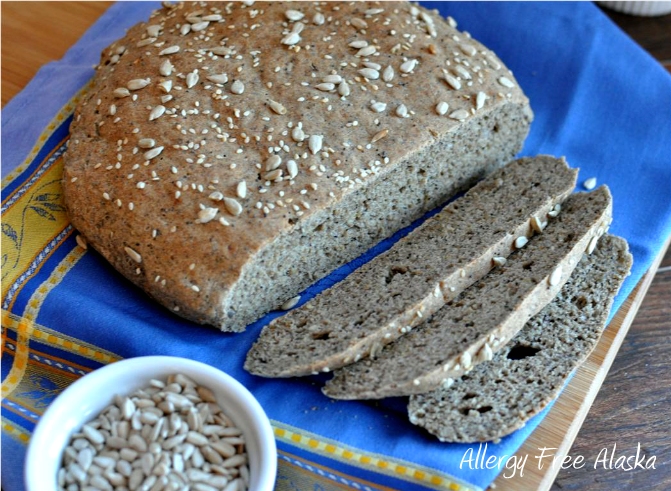 Yeast Ingredients
1 1/4 cup hot water (between 110 – 115 degrees F)
1 tablespoons honey
2 1/2 teaspoons dry active yeast (NOT instant yeast)
Dry Ingredients
1 1/2 cups sorghum flour
1 cup tapioca starch
1/2 cup brown rice flour
1/4 cup buckwheat flour
1/4 cup flax meal
2 tablespoons poppy seeds
2 tablespoons hemp seeds
2 tablespoons raw sunflower seeds
2 3/4 teaspoons xanthan gum
1 1/4 teaspoons sea salt
extra various seeds for sprinkling on top of the loaf (I used poppy seeds, sunflower seeds and sesame seeds)
Wet Ingredients
3 egg whites
3 tablespoon olive oil
1 teaspoon apple cider vinegar
Instructions
1. In a small mixing bowl, combine the honey and the hot water. Sprinkle in the yeast and give it a quick stir to combine. Allow to proof for 7 minutes (set a timer!) – NO more, NO less time. Make sure you have the other wet and dry ingredients mixed and ready to go when the 7 minutes are up!
2. Using a heavy duty mixer with a paddle attachment, combine the dry ingredients.
3. In a separate mixing bowl, whisk together the eggs, oil, and vinegar.
4. When the yeast is done proofing, add the wet ingredients to the dry. Stir until it's a little paste-like, then slowly add the yeast mixture. Using your mixer's low speed setting, mix for about 30 seconds. Scrape the sides of the bowl then mix on medium for 1-2 minutes or until the dough is smooth. (You may need to stop your mixer and scrape the sides of your bowl a few more times.)
5. Pour dough into a parchment lined and lightly greased 10-inch cast iron skillet. Wet your hands with warm water and use them to evenly smooth out the dough. Sprinkle the top of the dough with various seeds and allow to rise for 45 minutes to an hour. Bake in a preheated 375 degrees (F) oven for about 30 minutes.
6. Remove the loaf from the pan and allow it to cool on a wire rack. Cool completely before slicing (if you can stand to wait that long!).
Notes
If you do not have a 10-inch cast iron pan, you can use a 9-inch cake pan instead.
Allergy Free Alaska https://www.allergyfreealaska.com/
Enjoy!
xoxo,
Megan
This recipe is linked to My Meatless Monday, Natural Living Monday, Fat Tuesday, Tasteful Tuesday, Slightly Indulgent Tuesday, Hearth & Soul Blog Hop, Traditional Tuesday, Make Your Own! Monday, Allergy Free Wednesdays, Waste Not Want Not Wednesday, Gluten Free Wednesday, Whole Food Wednesday, Real Food Wednesday, Healthy 2Day Wednesday, Full Plate Thursday, Thank Your Body Thursday, Tasty Traditions, Gluten Free Fridays and Fight Back Friday.

(Visited 12,562 time, 1 visit today)