I know many of you (including me) are trying to maintain a more balanced, healthier way of eating in 2012, so I'd like to introduce you to a new website (that I'm very excited about!) called The Balanced Platter (TBP).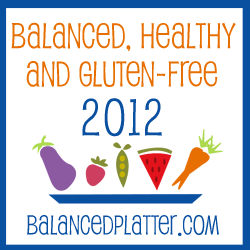 TBP's primary focus is to show you how simple it is to eat well and live a balanced life. TBP is unique, because several amazing bloggers in the gluten free/allergy free community will contribute to the site offering different perspectives on healthy living (for the whole family).
The Balanced Platter was founded by Amy Green of Simply Sugar & Gluten Free and Maggie Savage of She Let Them Eat Cake (I'm a big fan of both these ladies!).
Through the month of January, TBP is hosting a month long event called Balanced, Healthy, and Gluten Free in 2012. Gluten free bloggers will contribute recipes and tips on eating healthy and living balanced – AND there will be a giveaway on February 1st, so make sure you stay tuned for more details! Sign up to receive all the latest updates from The Balanced Platter on Facebook and Twitter.
My Fish Ceviche recipe is today's contribution to Balanced, Healthy, and Gluten Free in 2012 – thank you so much for allowing me to be a part of this, Amy and Maggie!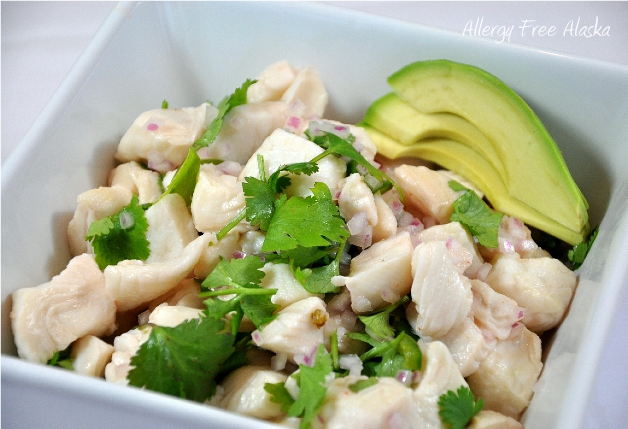 Ceviche ("seh-BEE-chay") is a popular dish in South America. The first time I sampled ceviche (it was soooo long ago!) I was working in the reservations center of a small local commuter airline in Anchorage. I worked with a few Latino women who would make ceviche occasionally for the many potlucks we had. I fell absolutely in love with it. It's the perfect blend of tartness, saltiness, and spiciness – great for eating with gluten free flour tortillas, brown rice snaps, corn chips (for those of you who tolerate corn), or for using as a lettuce wrap filling (I added more Sriracha Hot Chili Sauce to my lettuce wraps – YUM!).
By all means, feel free to get creative with how you use your ceviche!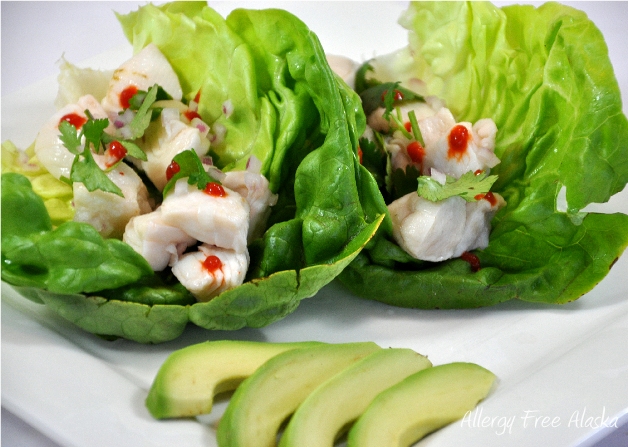 Ceviche is made with raw fish; however, the acid from the limes and lemons change the protein structure of the fish, basically "cooking" it without using heat. The translucent fish will quickly become an opaque white as it sits (or "cooks") in the acidic marinade.
I recommend using only fresh WILD CAUGHT fish in this recipe.
Tomatoes are commonly found in ceviche, so if you tolerate them, feel free to add chopped/seeded tomatoes in to the mix!
Fish Ceviche Recipe:
1.5 – 2 pounds cod (or halibut, red snapper, or another firm white fish), completely boned, skinned, and cut into 3/4 inch pieces
1/2 cup red onion, finely chopped
1 – 2 Serrano peppers, seeded and finely chopped (CAUTION: Remember to always use rubber gloves when chopping and seeding hot peppers or other chilies)
1/2 cup lime juice, freshly squeezed
1/2 cup lemon juice, freshly squeezed
1 1/2 teaspoons sea salt
1 – 3 teaspoons Sriracha Hot Chili Sauce (depending on how spicy you like it)
1/2 cup cilantro, roughly chopped
avocado
Blot off the excess moisture from the fish using paper towels, then place the fish, onion, and Serrano peppers in a (non-reactive) glass 9″ x 13″ baking dish.
In a medium sized (non-reactive) mixing bowl, combine the lime juice, lemon juice, sea salt, and Sriracha; pour the mixture over the raw fish. Mix until combined.
Cover, and place in the refrigerator. Allow the fish to marinade for 2 hours, then mix, place back in the refrigerator, and allow to sit for another 8 to 10 hours for the flavors to blend together (I make my ceviche in the evening and allow it to sit overnight).
Stir in the cilantro before serving and garnish with avocado.
Wishing you a very healthy and balanced 2012!
Enjoy!
xoxo
Megan
This recipe is linked to Slightly Indulgent Tuesday and Simple Lives Thursday.