I know, I've been a little quiet on the blog lately… there's been a LOT going on! First things first, I wanted to make sure you didn't miss out on this amazing opportunity: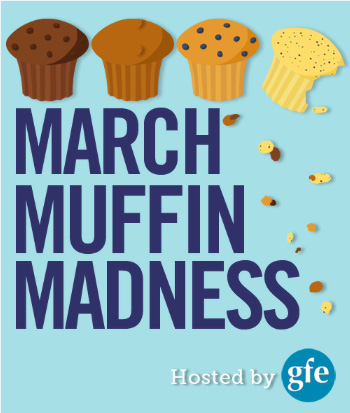 Enter for a chance to WIN a Blendtec, Cuisinart 14-Cup Food Processor, and lots of other amazing prizes over at March Muffin Madness hosted by Shirley of gfe-gluten free easily. Shirley is teaming up with some of your favorite bloggers to share a different muffin recipe each day for the entire month of March! I shared my Delicious Paleo Carrot Cake Muffins. To see the complete line up of bloggers and to read all of the DELICIOUS details (including instructions on how to enter to win), CLICK HERE.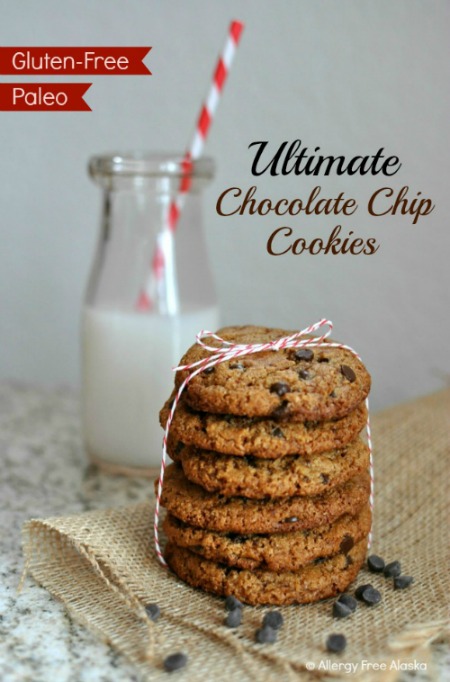 I've kept the recipe for these Ultimate Paleo Chocolate Chip Cookies in my back pocket for a while, just waiting for the right time to share it with you. After a few super busy weeks, I think it's the right time.  😉
I make these for my family when we need a little treat or pick me up (I may have even let my girls have 2 for breakfast the other day… but I won't confirm or deny that). I've made this recipe for several friends, some are gluten free, some are not. Regardless, everyone has loved them, and some have been completely surprised these are grain free. They taste a lot like a regular "Toll House Style" chocolate chip cookie. Who knew grain free could taste so good?!  😉 
A Few Notes About Substitutions:
1. If you can't do almond flour or nuts, this recipe isn't for you. Try my Gluten Free Toll House Style Chocolate Chip Cookies instead (the recipe calls for 1/4 cup of almond flour, but simply substitute sorghum flour for the almond flour and you'll be golden). 
2. If you are egg free, try these Chocolate Chip Cookie Bites or Protein Packed Monster Breakfast Cookies instead. 
3. And lastly, for sugar-free, try these Stevia Sweetened Chocolate Chip Cookies (just use cocoa nib in place of the chocolate chips for completely sugar-free). 
All my love, 
Megan (with a long E)
Ultimate Paleo Chocolate Chip Cookies
Serves:
2-3 dozen (depending on the size)
Instructions
Preheat oven to 375 degrees (F).
In a large mixing bowl, combine the almond flour, arrowroot starch, palm sugar, baking soda, and sea salt.
Cut in the coconut oil until the mixture resembles coarse crumbs.
Whisk in the eggs and vanilla. The dough will appear to be dry, but keep mixing until the ingredients come together to form a thick cookie dough.
Stir in the Enjoy Life Chocolate Mini Chips.
Refrigerate in an airtight container for 2 hours.
Drop by heaping teaspoonfuls onto parchment or silicone lined baking sheets and bake 9-11 minutes, or until the cookies are golden brown.
Cool on the baking sheets for 5-10 minutes before transferring the cookies to paper towels to help draw out the excess oils. Store in an airtight container.
Recipe Notes from Megan
These cookies come out of the oven crispy on the outside and chewy on the inside. For extra chewy cookies, under bake them by a minute. For completely crispy cookies, bake them until they are deep golden in color (just be careful not to burn them).
This recipe is linked to Make Your Own Monday, Fat Tuesday, Allergy Free Wednesday, Gluten Free Wednesdays, Frugal Day Sustainable Ways, Thank Your Body Thursday, Tasty Traditions, Full Plate Thursday, Simple Lives Thursday, Pennywise Platter, and Gluten Free Fridays. 
This post may contain affiliate links which I may receive a small commission from (without any additional costs to you). The money earned from these commissions helps me maintain this website. Thank you for your support in this way!