Welcome to Whole Food Fridays! Come link up your own GLUTEN FREE & WHOLE FOOD recipes and find new ones to try!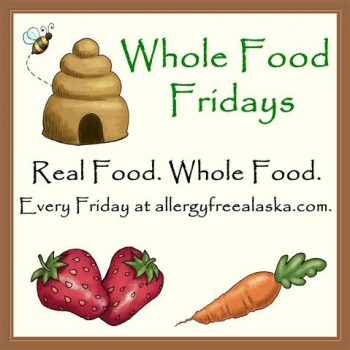 Thank you everyone for sharing your recipes at Whole Food Fridays. I look forward to each and every submission!
Here are a few highlights from last week:
Bounty Dream Bonbons from Merit @ Super Food Mama (keep scrolling down for the recipe in English)
Grain Free Carrot Walnut Muffins from Shannon @ Enjoying Gluten-Free Life
Mini Vegan Garden Pizzas from Amber @ The Tasty Alternative
Want to participate? Here are the linking up Guidelines:
Please link to your individual post, NOT your home page or a static blog party page.
You must provide a link back to Whole Food Fridays somewhere in the body of your post. Recipes not linked back to Whole Food Fridays will not be eligible to be highlighted the following week and may be deleted.
All recipes MUST BE GLUTEN FREE and made from REAL WHOLE FOOD ingredients.
Your blog does not have to be a gluten free blog in order to link up a recipe, but please make sure your recipe is gluten free.
Recipes for natural homemade soaps, lotions, etc. are also welcome.
Please leave me a comment! I love it when I hear from you. Often times comments make my day!
What your recipe CAN contain:
Any real whole food ingredients (gluten free whole grains, nuts, seeds, legumes, fruits, vegetables, herbs, healthy oils, etc).
Natural Sweeteners (honey, agave nectar, brown rice syrup, maple syrup, yacon, coconut nectar, coconut sugar/palm sugar, sucant, stevia)
Meats, eggs and dairy are all okay (although dairy free options are always an added bonus).
Bacon. Yes, anyone who makes anything with bacon gets extra brownie points (just make sure your bacon is gluten & nitrate free)!
What your recipe CANNOT contain:
Anything artificial, including anything refined or highly processed.
Any sort of boxed mix or prepackaged anything. Fresh real whole foods are best!
Refined sugars (white sugar, brown sugar).
Liver and/or chicken feet. Okay, I'm joking. You can link up a recipe that contains either, I just probably won't highlight it the following week.
If your post does not comply to the above guidelines it will be deleted (and I will probably delete it without leaving you a note telling you I did (sorry), because that could be very time consuming). If you have any questions just leave me a comment below and I will try my best to get back to you. 
Please be descriptive and tell us a bit about what you're sharing. Is it vegan? What about dairy free? Is it grain free? Etc… I think you understand; you're a smart bunch!
Thanks again for stopping by Whole Food Fridays! I look forward to seeing you every week!
xoxo
Megan