Before I started the anti-inflammatory diet, I made one heck of a homemade eggnog. My family loved it, so it became tradition for us to have it around every holiday.
Since giving up dairy meant giving up my favorite eggnog, I decided it was time to come up with a new dairy free recipe.
This dairy free version isn't as thick as a dairy eggnog containing cream or half and half, but the taste is spot on and it's definitely a LOT less calories! I hope you enjoy it and that it becomes a family favorite around your house too!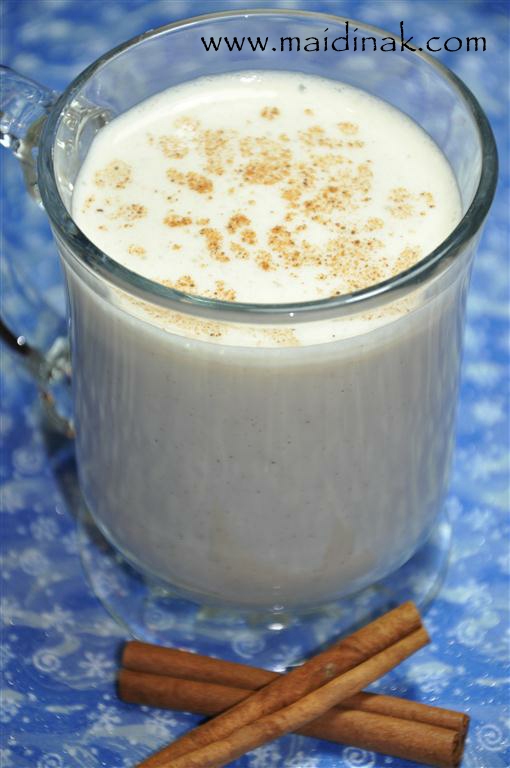 Dairy Free Homemade Eggnog

4 cups Original Flavor So Delicious Coconut Milk, divided
3 whole cloves
1 1/4 teaspoons vanilla extract
1/2 teaspoons cinnamon
6 egg yolks
6 – 8 tablespoons palm sugar
1/4 teaspoon nutmeg (or more if you are a nutmeg fan)
3/4 cup light rum, optional
In a medium saucepan over low heat, slowly bring 2 cups of coconut milk, 3 cloves, 1/4 teaspoon of vanilla extract, and the cinnamon to a boil. Remove from heat.
In a large bowl, combine the egg yolks and palm sugar; whisk until light and fluffy.
Slowly, little by little, whisk the hot saucepan contents into the yolk and sugar mixture. (If you pour the hot contents into the yolk mixture too quickly, you will scramble the eggs, so be careful)
Return contents to your saucepan and heat on the lowest temperature (make sure it's at the lowest temp, otherwise it will curdle), stirring constantly, for 2 minutes. Remove from heat and allow to cool for at least an hour.
Whisk in the remaining 2 cups of coconut milk, 1 teaspoon of vanilla, nutmeg, and rum. Chill in the refrigerator overnight before enjoying.
Enjoy!
Megan